For the past 20 years Capitol Plaza Hotel & Conference Center has been home to over 400 Central Vermont's most important Wedding ceremonies and receptions. Through that time and still today, our goal has been simple -
"Guide each couple through the wedding process that will result in a stress-free and unforgettable event."
"You were a shining beacon of organization & efficiency. (The Capitol Plaza) was always on top of everything throughout this process and gave us amazing guidance."
"We cannot begin to thank you and your team for everything you did to not only make our wedding happen… but to make it perfect!"
"This experience has been great and you have catered to our every need. I would very highly recommend the Capitol Plaza to anyone getting married."

The stress in planning a wedding comes when there is a lack of a plan and timeline. Our wedding process provides each couple with a Wedding Timeline that guides all parties involved through each step, schedules the planning meetings, and follows up each meeting with next steps, functions sheets, room schematics and agendas. This is where we earn our money! Here is an example of a timeline.
9 Months prior to the wedding:

Limousine reserved (if applicable)
Wedding package selected
Initial deposit due

6 Months prior to the wedding:

Detailed meeting with Wedding Coordinator
Finalize Menus
Finalize Room layout
Finalize Flowers
Finalize Linens
Cake design selected and ordered
Second deposit is due

30 Days prior to the wedding:

Room block is released
Function sheet is prepared for approval
Set up a time for the drop off meeting

14 Days prior to the wedding:

Cake guaranteed and sent for approval

7 Days prior:

The Week of the wedding:

Drop off meeting
Remaining balance is paid

Capitol Plaza has chosen what we feel are leading wedding professionals that share our same passion and vision to assist in your event. Those unique qualities include: Experience • Flexibility • Affordability.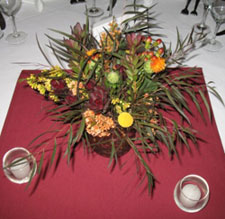 Botanicas Floral design on State Street in Montpelier
Botanica Florals specializes in floral design which combines fresh flowers, natural elements and unique finishing touches. Sisters Sonja Grahn and Sarah Schmokel have years of experience and an appreciation for the local flowers that Vermont has to offer. Whether you like clean and contemporary or classic and timeless, Botanica has the knowledge and artistic eye to make your vision a reality. Not quite sure what you want? Botanica's centrally located shop in Montpelier makes stopping in for consultations quick and convenient.
We encourage our brides to turn to Botanica for their bridal party bouquets to ensure there will be a sense of cohesion on their wedding day. You can rest assured knowing that they will be safely hand delivered to the Plaza the day of your event and that Botanica has extended the same floral theme to your specific wedding cake. Visit Botanica's website to learn more about your flower options at: www.botanicafloralsvt.com

Snaffle Sweets
Snaffle Sweets creates all of our wedding cakes using traditional American recipes, with a large selection of flavors to choose from. With their broad range of talent, many decorating styles are offered, allowing a selection to suit the ambiance of your very special day.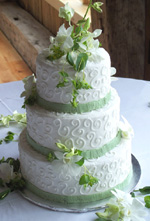 Cake flavors include: Traditional White Vanilla, Decadent Chocolate Fudge, Comforting Yellow Vanilla, Earthy Spice and Tangy Lemon. Icing flavors include: Vintage Ivory Vanilla Buttercream and Bridal White Vanilla Buttercream.
Special cake recipes such as lemon poppy seed, carrot, hummingbird, white chocolate, banana, toasted hazelnut and vanilla chocolate chip are available and would be priced accordingly. Special fillings including milk chocolate truffle, dark chocolate truffle, white chocolate truffle, orange raspberry truffle, chocolate silk, maple buttercream, mocha buttercream, raspberry buttercream, strawberry buttercream, lemon curd, raspberries or strawberries and whip cream, raspberry jam, toasted almond buttercream and maple walnut buttercream would be priced accordingly as well.
Special toppers such as flowers can be made from buttercream, royal icing or fondant. These flowers are edible. Gum paste flowers can be too hard to eat, but can be ordered to decorate your cake. Snaffle Sweets can also work with your florist for fresh flowers on your cake if you so desire.
All of our packages include a wedding cake. Customizing your cake is welcome and would be priced accordingly. You would be responsible for any add-ons.
Snaffle Sweets in nearby Richmond, VT is owned and operated by June Banks and has been the cake provider to the Capitol Plaza for the past ten years. Her cakes designs are continuosly featured in wedding publications such as Vermont Vows. June is always happy to personally meet with any bride and has done a great deal of 'customizing' for the Capitol Plaza. Visit her site at www.snafflesweets.com

Supersounds DJ
Supersounds DJ service has been Vermont's leading DJ service since 1991 and is the first referral that Capitol Plaza hand out to couples. They also feature photobooths, large screen videos and a long list of your audio visual needs. Most importantly, they offer experience. As we say in the business, anyone can spin the records but only an experienced DJ can be an effective master of ceremonies on such an important occasion. All Supersounds DJ's have worked extensively with Capitol Plaza coordinators so that each event is orchestrated perfectly. Visit their website at www.supersounds.com
And More…
We have a long list of additional wedding professionals we work with directly such as limousine service, wedding gowns and tuxedos, linen services, invitations, hair and make up, photographers, etc…

Over the year's we have found that most couples have enjoyed the 'one-stop shopping' approach to our wedding packages because they include:
Private Banquet Room
Elegant 3 course dinner
Fresh floral Table Arrangements
Dedicated Wedding Coordinator
Wedding Cake
Complimentary Hotel Room for the couple
However, we also know that each couple comes with their own talents and 'special requests'. We have no problem customizing our packages for your needs.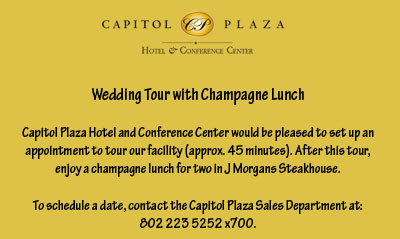 The Capitol Plaza Sales staff is available for a hotel tour which will take between 45 minutes to one hour. We then treat you to a 'Congratulatory Champagne Lunch for Two' at J Morgan's Steakhouse.

Simply call the Capitol Plaza Sales Staff with two things:
An idea of a date
An estimated number of people
That is all we need to get you started! If you prefer to email us, do so by filling out the attached 'contact us'.
Thank you for visiting the Capitol Plaza wedding website and feel free to contact us with any questions about your wedding planning process.
Congratulations,
Brian Cain
Sales Director/General Manager