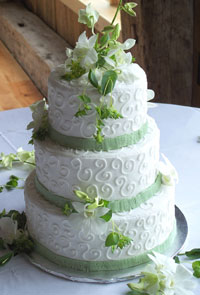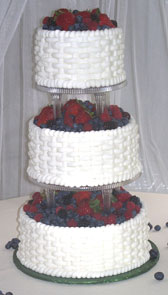 Snaffle Sweets creates all of our wedding cakes using traditional American recipes, with a large selection of flavors to choose from. With their broad range of talent, many decorating styles are offered, allowing a selection to suit the ambiance of your very special day. Visit their website to learn more about their cakes and cake making process at: www.snafflesweets.com. Cake flavors include: Traditional White Vanilla, Decadent Chocolate Fudge, Comforting Yellow Vanilla, Earthy Spice and Tangy Lemon. Icing flavors include: Vintage Ivory Vanilla Buttercream and Bridal White Vanilla Buttercream.
Special cake recipes such as lemon poppy seed, carrot, hummingbird, white chocolate, banana, toasted hazelnut and vanilla chocolate chip are available and would be priced accordingly. Special fillings including milk chocolate truffle, dark chocolate truffle, white chocolate truffle, orange raspberry truffle, chocolate silk, maple buttercream, mocha buttercream, raspberry buttercream, strawberry buttercream, lemon curd, raspberries or strawberries and whip cream, raspberry jam, toasted almond buttercream and maple walnut buttercream would be priced accordingly as well.
Special toppers such as flowers can be made from buttercream, royal icing or fondant. These flowers are edible. Gum paste flowers can be too hard to eat, but can be ordered to decorate your cake. Snaffle Sweets can also work with your florist for fresh flowers on your cake if you so desire.
All of our packages include a wedding cake. Customizing your cake is welcome and would be priced accordingly. You would be responsible for any add-ons.
(All of the cakes shown are Snaffle Sweets productions; some have additional costs associated with them.)